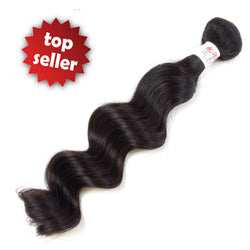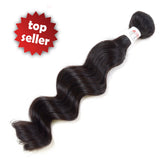 Goddess Lengths Virgin Hair
BRAZILIAN GODDESS WAVE
Our 100% Virgin Brazilian Goddess Wave Hair is the highest quality Virgin Brazilian hair on the market.

 

This texture is for the Goddess

 

who loves versatility.
The Brazilian Goddess Wave has a loose natural wave pattern and is full and thick yet soft and light weight with a lot of natural body. Each bundle is 3oz and come in its natural Virgin color. All Goddess Lengths Virgin Hair has undergone a conscientious quality control process to insure we only bring you the best of the best. With proper care our hair can last up to a year.
Each Bundle is approximately 90-100 grams
Complete your install with one of our Body Wave Closures or Frontals.
Recommended Number of Bundles for a full head:
12'-14' 2 bundles 14"-18" 3 bundles | 20"-26" 4 bundles | 28" and above 5 bundles.
Brazilian Goddess Wave is amazing....the best hair ever! Great quality
Beautiful Hair
The quality of the Brazilian Goddess Wave is very good. Delivery was fast. I've bought hair twice before this order and I am very pleased. I will continue to order from Goddess Lengths.
Brazilian Goddess Wave
I really loved the hair, and my beautician loved also. I will be purchasing more. The only bad thing was one of the bundles were a different color, if I purchase some I just want the bundles be the same color.
BEST HAIR EVER!
I love this hair from Latrice. The quality is good and little to NO shedding. This is my 2nd purchase I just wished I could order the hair black and not have to dye it. Other than that I highly recommend you getting this hair. Plus I watched Belle Collective the BEST show ever and the BEST hair ever.
Love it So far!
Omg! I think I have found me a new vendor!!! I have been using a local vendor for years! But they are always out of product. I would wait weeks well hopefully no more. I say hopefully because it's been two weeks since I had the hair put in and I love it! It's soft, no tangles or shedding. I do wish the waves were tighter. When I first washed and dyed it the waves/curls were more noticeable.. I'm thinking I will try the tight waves next time I just hope it doesn't tangle. I work out in the yard a lot. I was out there cutting the grass recently I sweat a lot I was afraid it was going to tangle but no tangles!…. I would recommend this hair100%. I also like the fact I received my order in 3 days!