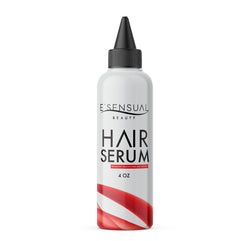 Goddess Lengths Virgin Hair
E' Sensual Hair Care Serum
Stimulates Growth
Ingredients: castor oil, coconut oil, rosemary oil, jojoba oil, peppermint oil, ginger oil, vitamin E oil, grape oil.
Directions: Apply to scalp once a day every day or every other day to achieve best results.
You can also deep condition with this product by applying it to your scalp and the ends of your hair AFTER shampooing. Cover with a plastic cap for a minimum of 45 mins. The longer the better. Then SHAMPOO your hair to remove the product and style as desired. It will leave your hair super silky.
It's the rapid growth for me
Since purchasing the E'sensual hair serum oil over 2 weeks ago now. I noticed within a week of using the product my roots had grown at 2x the rate than it normally does. Definitely, happy about that since I'm starting my loc journey soon. The smell is amazing, light and favorable. I'll definitely be a repeat customer.