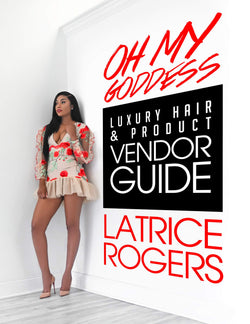 Goddess Lengths Virgin Hair
OH MY GODDESS: Luxury Hair & Product Vendor Guide!!
Step into the world of retail with multi-million dollar business owner Latrice Rogers! Reality star and beauty mogul, Latrice Rogers is praised for her amazing business savvy and work ethic. Because of this, she is no stranger to the trials and triumphs of business, thus offering an E-Book that delivers the framework for starting (or refreshing) your business! 
Oh My Goddess places in your hands Latrice's personal list of luxury hair, cosmetics, eyelash, vending machines, clothing vendors, and more!
An easy yet informative read that will leave you excited and ready to press 'Go' on success!
Awesome
Well prepared and helpful
gave me a great start on my hair business
WOW!
The type of knowledge she is sharing is Amazing! It's so inspiring. My daughters have just begun their journey and I pray that they're just as successful. Thank you
Very informative and helpful
I appreciate her willingness to share her knowledge and encouraging you to go for it!
THE BEST GUIDE TO HELP ME START MY BUSINESS -Suburban lust hair LLC
Very detailed and open.... need more like this around
..pray to gain the same amount of success...thanks again